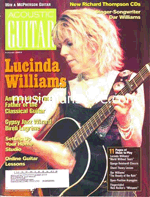 LUCINDA WILLIAMS cover
ACOUSTIC GUITAR August 2003 , issue No. 128
122 pages. Features: Lucinda Williams, Antonio de Torres: Father Of the Classical Guitar, Gypsy Jazz Wizard Bireli Lagrene, Setting Up Your Home Studio, Online Guitar Lessons, New Richard Thompson CDs, Dar Williams, 11 Pages of Music To Play - Lucinda Williams" World Without Tears", Django Reinhardt Classic, Chord Theory Lesson, Dar Williams' "The Beauty of the Rain", Open-Position Arpeggios, Fingerstylist Rick Ruskin's "Whispers", etc
Great Acoustics-Elfolk
Price $6.75
($5.75 post US)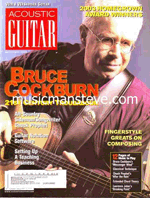 BRUCE COCKBURN cover
ACOUSTIC GUITAR September 2003 , issue No. 129
114 pages. Features: Bruce Cockburn, Alt-Country Sideman/Songwriter Chuck Prophet, Guitar Notation Software, Setting Up A Teaching Business, Fingerstyle Greats on Composing, 12 Pages of Music To Play - Bruce Cockburn's "Messenger Wind", Classical Technique, Chuck Prophet's "After The Rain", Extended Chord Theory, Laurence Juber's "Breaking Point", etc
Great Acoustics-1999 Linda Manzer
Price $6.75
($5.75 post US)
LINDSEY BUCKINGHAM cover
ACOUSTIC GUITAR October 2003 , issue No. 130
114 pages. Features: Lindsey Buckingham, Guitars In College, New Directions in Slide Guitar, Mics, Mixers, and Preamps, Selling your CD Online, 11 Pages of Music To Play - Fleetwood Mac's "Peacekeeper", Innovative Slide Licks, Starting to Solo, Reverend Gary Davis' Gospel Fingerpicking, Bossa Nova Basics, etc
Great Acoustics-S.S.Stewart Archtop
Price $6.75
($5.75 post US)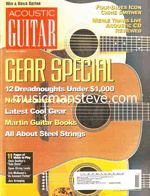 GEAR SPECIAL cover
ACOUSTIC GUITAR November 2003 , issue No. 131
114 pages. Features: 12 Dreadnoughts under $1000, New Acoustic Amps, Latest Cool Gear, Martin Guitar Books, All About Steel Strings, Folk-Blues Icon Chris Smither, Merle Travis Live Acoustic CD Reviewed, 11 Pages of Music To Play - Chris Smither's "Train Home", Open-String Leads, Erin McKeown's "An Innocent Fiction", Jazz Arranging, etc
Great Acoustics-1978 Yamaha L-53 (John Denver's)
Price $6.75
($5.75 post US)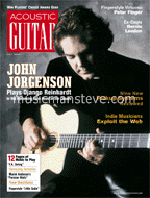 JOHN JORGENSON cover
ACOUSTIC GUITAR July 2004 , issue No. 139
98 pages. Features: John Jorgenson plays Django Reinhardt, Fingerstyle Virtuoso Peter Finger, Ex-Eagle Bernie Leadon,Nine new Pickup systems reviewed, indie musicians Exploit the Web, . Music to Play- "F.A. Swing", Harnessing Harmonics, Muriel Anderson's Parisian Waltz", Barre chord Basics, Fingerstyle "Little Sadie"..
GREAT ACOUSTICS: Alan Perlman Arch-Harp Guitar.
Price $6.75
($5.75 post US)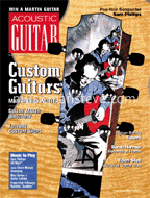 CUSTOM GUITARS cover
ACOUSTIC GUITAR August 2004 , issue No. 140
130 pages. Features: Master Inlay Artists, Guitar Maker Directory, Factory Custom Shops, Pop-Noir Songwriter Sam Philips, nylon-String tuners, Sarah Harmer records at home, Eden-Stell classical guitar duo... . Music to Play- Sam Phillips "All Night", Jazz Chord-Melody Arranging, Nina Gerber's Guitar Lullaby, Fingerstyle Folk Song "Rambler, Gambler"...
GREAT ACOUSTICS: Epiphone Recording E guitar.
Price $6.75
($5.75 post US)