1953 ZILDJIAN & ZILCO CYMBALS jobber catalog page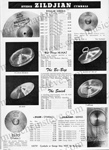 Offering the 1953 ZILDJIAN & ZILCO CYMBALS jobber catalog page shown. Side one shows a variety of vintage Zildjian cymbals (Regular, Bop-flange hi-hat, Be-bop, swish...along with some Zilco cymbals. Flip side shows Hi-Hat Sock pedals and cymbals from Leedy & Ludwig and Perfection...

..Photos show paper page (SOLD).
Clear complete PDF available



If you have any questions ...please e-mail









---
Items selected will immediately be available for download following processing fee donation.


Once paypal transaction is complete you will be directed to the immediate download link ("to download your order now please click this link")


Once you click the immediate download link you will be given a choice to "open" or "save" the zip file.


You can either SAVE downloaded file or OPEN in Adobe Acrobat Reader. If you select "open" you can then click "file" and "save as" to save the PDF document for future reference.


---
Home | Guitars | Guitar Parts & Accessories | Picks | Banjos, Mandolins, Ukes, etc. | Banjo Parts & Accessories | Primo Pots | Guitars Wanted | Contact | Guitar Tuner Reference | Magazine Backissues | books, catalogs, etc) | Vintage Paper (catalogs, folios,etc) | Guitar Parts & Accessories | Photo Gallery | Vintage Print Ads | Vintage Gibson Sheet Music |
&copy 2020 Music Man. All Rights Reserved.