original 1990s FENDER FACTS AMPS PRODUCT UPDATE - BXR Bass Amplifiers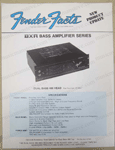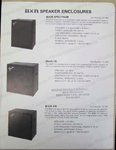 Offering this cool original 1990s FENDER FACTS AMPS illustrated 2-sided promo PRODUCT UPDATE .....features BXR Bass Amplifiers, This is a high quality promo printed on both sides...store stamp on b/w side...very good condition......
$12.99 ($4.95 postage US)
For Paypal purchase (US only) simply hit the "Buy Now" button below.
---
---
OVERSEAS please inquire re: postage
If you have any questions ...please e-mail











---
---
---
Home | Guitars | Guitar Parts & Accessories | Picks | Banjos, Mandolins, Ukes, etc. | Banjo Parts & Accessories | Primo Pots | Guitars Wanted | Contact | Guitar Tuner Reference | Magazine Backissues | books, catalogs, etc) | Vintage Paper (catalogs, folios,etc) | Photo Gallery | Vintage Print Ads | Vintage Gibson Sheet Music |
&copy 2022 Music Man. All Rights Reserved.