1930s HILO HAWAIIAN GUITARS print ad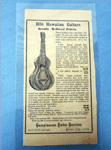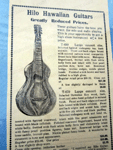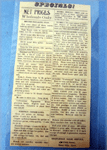 Offering this cool original undated (c.1930s) HILO HAWAIIAN GUITARS print ad shown.....measures approximately 5" x 9" and has been laminated. Front side is cool ad for Templeman Sales Service Sioux City, Iowa for Hilo Hawaiian Guitars. Back side is series of wholesale "specials" offered by Templeman...Vega Mandocello, Weymann guitar, Vegaphone plectrum banjo, etc...all with dreamy prices..very good condition......
$12.99 ($5.95 postage US)
For Paypal purchase (US only) simply hit the "Buy Now" button below.
---
---
OVERSEAS please inquire re: postage


If you have any questions ...please e-mail









---
---
---
Home | Guitars | Guitar Parts & Accessories | Picks | Banjos, Mandolins, Ukes, etc. | Banjo Parts & Accessories | Primo Pots | Guitars Wanted | Contact | Guitar Tuner Reference | Magazine Backissues | books, catalogs, etc) | Vintage Paper (catalogs, folios,etc) | Photo Gallery | Vintage Print Ads | Vintage Gibson Sheet Music |
&copy 2022 Music Man. All Rights Reserved.