GUITAR PLAYER Magazine..March 1974
Click on small photos to view large photo.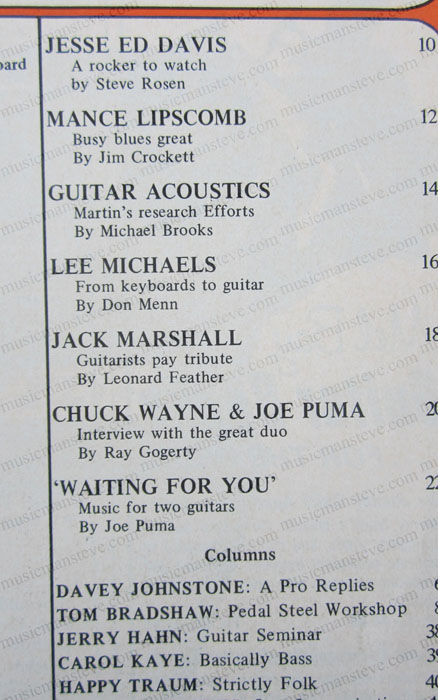 Offering this rare backissue of GUITAR PLAYER Magazine..March 1974...Volume 8, No. 3, 50 pages. Articles on Jesse Ed Davis, Mance Lipscomb, Guitar Acoustics, Lee michaels, Jack Marshall, Chuck Wayne & Joe Puma, Waiting For You, etc
Full page Fender guitar ad (telecaster wheelie), Sound City amps, Ibanez guitars, Alvarez Yairi, Ovation , Levin guitars, SG Systems, Tarrega strings, Giannini Craviola guitar, Music Man amps, Hohner guitar, Guild Copicat, Altec, Ampeg, Randall amps, back cover Gibson color ad showing L6-S guitar,etc...Very Good Complete condition...this is a real keeper.... classic guitar player backissue...(see pix).... ....
$17.50 (postpaid in US)
For Paypal purchase (US only) simply hit the "Buy Now" button below.
---
---
OVERSEAS $12.99 postage. For direct Paypal payment (overseas)...just hit the "PayPal Payments" button below.



If you have any questions ...please e-mail Steve...trade for unwanted old guitar mags, parts, catalogs, books,etc..


musicman5@cox.net









---
---
I usually respond to ALL e-mail inquiries. If you do not get a response it usually means I did not get the e-mail message...please try again

Home | Guitars | Guitar Parts & Accessories | Picks | Banjos, Mandolins, Ukes, etc. | Banjo Parts & Accessories | Primo Pots | Guitars Wanted | Contact | Guitar Tuner Reference | Magazine Backissues | books, catalogs, etc) | Vintage Paper (catalogs, folios,etc) | Guitar Parts & Accessories | Photo Gallery | Vintage Print Ads | Vintage Gibson Sheet Music |
&copy 2018 Music Man. All Rights Reserved.