GUITAR PLAYER Magazine..February 1967
Click on small photos to view large photo.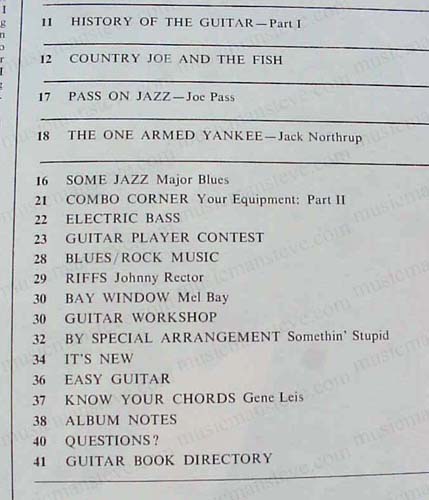 Offering this issue of GUITAR PLAYER Magazine..February 1967...Volume 2, No 1. ...50 pages. Includes: Flamenco - Juan Serrano, History of the Guitar Part I, Country Joe and the Fish, Pass on Jazz - Joe Pass, The One Armed Yankee-Jack Northrup, Full page ads- Richie Havens for OVATION, SUNN amps, DANELECTRO,The Animals Noel Redding Andy Kulberg Billy Blue for HAGSTROM , two-page ad spread for EKO guitars, Glen Campbell for MOSRITE guitars,entire back cover is Fender (Herman's Hermits, Don Baldwin, Francois Vaz,) etc ....a cool collectible .... ORIGINAL and almost complete...missing one page (15/16)..(last page of the Country Joe & Fish article and the Blues by Joe Pass..) otherwise very good with minor wear consistent with age...no visible scribbling ,damage or other missing pages..worth it just for the ads I'd say... (see pix)....
$19.99 (postpaid in US)
For Paypal purchase (US only) simply hit the "Buy Now" button below.
---
---
OVERSEAS $12.99 postage. For direct Paypal payment (overseas)...just hit the "PayPal Payments" button below.



If you have any questions ...please e-mail Steve...trade for unwanted old guitar mags, parts, catalogs, books,etc..


musicman5@cox.net









---
---
I usually respond to ALL e-mail inquiries. If you do not get a response it usually means I did not get the e-mail message...please try again

Home | Guitars | Guitar Parts & Accessories | Picks | Banjos, Mandolins, Ukes, etc. | Banjo Parts & Accessories | Primo Pots | Guitars Wanted | Contact | Guitar Tuner Reference | Magazine Backissues | books, catalogs, etc) | Vintage Paper (catalogs, folios,etc) | Guitar Parts & Accessories | Photo Gallery | Vintage Print Ads | Vintage Gibson Sheet Music |
&copy 2017 Music Man. All Rights Reserved.