1980s GIBSON "THE AMERICAN SERIES" BROCHURE
Click on small photos to view large photo.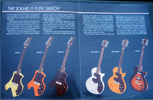 ORIGINAL 8 1/2" x 11" color 4-panel promo showing 6 Gibson American Series guitars. Shown are Corvus I, Corvus II, Corvus III, Challenger I, Challenger II and Invader solid bodies. Complete specifications also. This is not dated but based upon Corvus production dates (1982-1984), figure 1982 or so. Cool Norlin-era Gibson paper...
$19.99 (postpaid in US)
For Paypal purchase (US only) simply hit the "Buy Now" button below.
---
---
OVERSEAS $15.00 postage. For direct Paypal payment (overseas)...just hit the "PayPal Payments" button below.



If you have any questions ...please e-mail Steve...trade for unwanted old guitar mags, parts, catalogs, books,etc..


musicman5@cox.net









---
---
I usually respond to ALL e-mail inquiries. If you do not get a response it usually means I did not get the e-mail message...please try again

Home | Guitars | Guitar Parts & Accessories | Picks | Banjos, Mandolins, Ukes, etc. | Banjo Parts & Accessories | Primo Pots | Guitars Wanted | Contact | Guitar Tuner Reference | Magazine Backissues | Out Of Print Folios | Guitar Parts & Accessories | Photo Gallery | Vintage Print Ads |
&copy 2016 Music Man. All Rights Reserved.