1960s Kluson Strip 3+3 "Double Line" plastic button tuner set
ORIGINALS...Parts or Restore !!
Click on small photos to view large photo.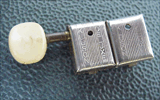 Set of ORIGINAL 60s plastic button 3+3 "double line" klusons for Gibson Les Paul Junior, Special, SG,etc

Original set ,original tips..parts or restore

Offering for your consideration this RARE set of 60s plastic button kluson 3+3 strip tuners shown in the photos. This is an original nickel plated SET of "double line" enclosed klusons with original oval white plastic tips which are original to 60s Gibson guitars ...Les Paul Junior, Les Paul Special, J-45, J-50, ES-125, SG,etc etc. The tuners are completely ORIGINAL but the "G" string gear housing has lost its attachment tabs...will include an original matching gear housing which can be re-attached to the strip. The tuners are marked "Kluson Deluxe" in a double line as shown. Buy the set for the price of the tips.... no other parts included....just what is shown in the photos.. As Is $75. (postpaid in US...)
For Paypal purchase (US only) simply hit the "Buy Now" button below.
---
---
OVERSEAS $16.95 postage. For direct Paypal payment (overseas)...just hit the "PayPal Payments" button below.



If you have any questions ...


musicman5@cox.net









---
---
I usually respond to ALL e-mail inquiries. If you do not get a response it usually means I did not get the e-mail message...try again with a cc to richlybizarre@yahoo.com

Home | Guitars | Guitar Parts & Accessories | Picks | Banjos, Mandolins, Ukes, etc. | Banjo Parts & Accessories | Primo Pots | Guitars Wanted | Contact | Guitar Tuner Reference | Magazine Backissues | Vintage Paper Resource | Photo Gallery | Vintage Print Ads |
&copy 2015 Music Man. All Rights Reserved.