Tune-O-Matic bridge with mounting hardware, no saddles
Unmarked Spare Parts
Click on small photos to view large photo.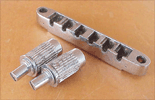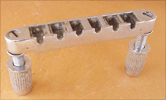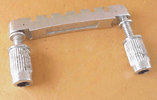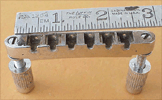 Tune-O-Matic bridge with mounting hardware, no saddles



Offering the unmarked Tune-O-Matic bridge with mounting studs and anchors shown which may prove useful for parts or restoration. Includes mounting studs and body anchors to receive the studs...just what is shown. No markings on the underside. For parts or restoration ..... Good solid parts. Been in my parts drawer for decades.Overall length is about 3 1/4". Not sure what guitar it came from.
$12.99 pospaid US
For Paypal purchase (US only) simply hit the "Buy Now" button below.
---
---
OVERSEAS $12.99 plus $7.99 postage. For direct Paypal payment (overseas)...just hit the "PayPal Payments" button below.



If you have any questions ...please e-mail Steve


musicman5@cox.net









---
---
I usually respond to ALL e-mail inquiries. If you do not get a response it usually means I did not get the e-mail message...try again with a cc to richlybizarre@yahoo.com

Home | Guitars | Guitar Parts & Accessories | Picks | Banjos, Mandolins, Ukes, etc. | Banjo Parts & Accessories | Primo Pots | Guitars Wanted | Contact | FAQ | Information Links | Photo Gallery | Print Ads |
&copy 2015 Music Man. All Rights Reserved.