Vega 2-point Banjo Shoe
Click on small photos to view large photo.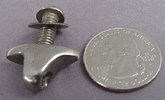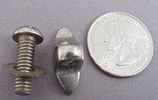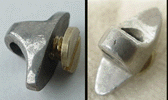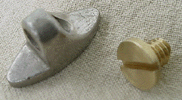 Original with Mounting Screw
This is an original as found on original Tubaphone , Whyte Laydie and Electric models by Vega. If your original Vega Tubaphone , Whyte Laydie or Special Electric is missing one this is a great opportunity to get it right. This is an ORIGINAL prewar Vega nickel plated brass 2-point shoe original to all Vega bracket band models. Comes with EITHER the special small brass screw for use with bracket band banjos OR the longer thru-rim screw for Electric models. (Both are shown..you must specify which you prefer). Price is for ONE shoe and ONE mounting screw. Please be sure to specify which mounting screw is required. Let's get that old banjo right! $12.99 (mailed free in US) Once you select "buy now" you can select quantity.
---

If you have any questions ...please e-mail Steve


primopots@cox.net