1940 OLDS instruments print ad - Champagne music Lawrence Welk & band!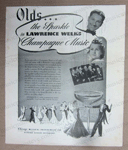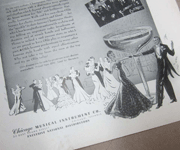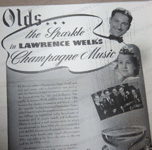 offering this cool original 1940s print ad shown which measures about 11" x 13" and features Lawrence Welk's Band with their OLDS instruments as well as Welk and a neat ballroom dancing illustration...as photos show the ad has a crease and tiny edge tear along the fold in the source music publication from which it was excerpted.....will post folded. suitable for framing.......
$12.99 ($5.95 postage US)
For Paypal purchase (US only) simply hit the "Buy Now" button below.
---
---
OVERSEAS please inquire re: postage
If you have any questions ...please e-mail











---
---
---
Home | Guitars | Guitar Parts & Accessories | Picks | Banjos, Mandolins, Ukes, etc. | Banjo Parts & Accessories | Primo Pots | Guitars Wanted | Contact | Guitar Tuner Reference | Magazine Backissues | books, catalogs, etc) | Vintage Paper (catalogs, folios,etc) | Photo Gallery | Vintage Print Ads | Vintage Gibson Sheet Music |
&copy 2022 Music Man. All Rights Reserved.