1948 "HAPPY HAWAIIAN"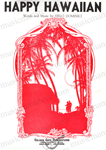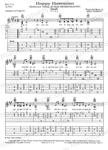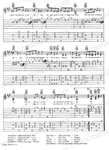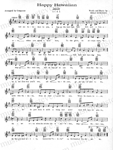 rare out-of-print original old Hawaiian Steel Guitar Orchestration entitled "HAPPY HAWAIIAN" from 1948. It features a very attractive cover (romantic Hawaiian seascape sillouette with palm trees and grass hut...) and includes words, musical notation, UKE chord charts AND Tab for both FIRST and SECOND hawaiian guitars. 9" x 12" full arrangement in Key of A plus chart in the key of G. Nice addition to your library for sure. Does not show in photos but has been punched for 3-ring notebook. Nice addition to your library for sure.
..... $14.99 postpaid US





digital download (donate link below)

If you have any questions ...please e-mail









---
---
---
Home | Guitars | Guitar Parts & Accessories | Picks | Banjos, Mandolins, Ukes, etc. | Banjo Parts & Accessories | Primo Pots | Guitars Wanted | Contact | Guitar Tuner Reference | Magazine Backissues | books, catalogs, etc) | Vintage Paper (catalogs, folios,etc) | Photo Gallery | Vintage Print Ads | Vintage Gibson Sheet Music |
&copy 2022 Music Man. All Rights Reserved.