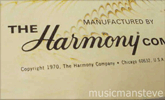 original 1970 HARMONY GUITARS AMPS BANJOS MANDOLINS CATALOG Rare original 1970 HARMONY GUITARS, AMPLIFIERS, BANJOS, MANDOLINS AND UKE CATALOG is a 28-page full color catalog that shows and describes the complete line of guitars, electrics, amplifiers, mandolins, banjos and ukuleles offered by the legendary Chicago Company at this time. Illustrations and descriptions of all the fabulous US made classics including: H75 & H78 double cutaway triple pickup thinlines with DeArmond pickups. H68 single cut deep body, H64 double cut thin electric w/bigsby, H60 & H72 double cut thinlines, H79 electric 12 string, H55 flattop w/electronics , DOUBLE Cutaway Harmony Rockets, Solid body "Bob Kat" models, Rebel electrics (whoa! avocado green!), Electric Basses, archtops, loads of cool hawaiians, banjos, mandolins, tenors and all the other cool vintage Harmony models!!
A very cool bit of Harmony memorabilia!!

---

..Photos show paper catalog (SOLD).
Clear complete PDF available



If you have any questions ...please e-mail









---
---
---
Home | Guitars | Guitar Parts & Accessories | Picks | Banjos, Mandolins, Ukes, etc. | Banjo Parts & Accessories | Primo Pots | Guitars Wanted | Contact | Guitar Tuner Reference | Magazine Backissues | books, catalogs, etc) | Vintage Paper (catalogs, folios,etc) | Photo Gallery | Vintage Print Ads | Vintage Gibson Sheet Music |
&copy 2022 Music Man. All Rights Reserved.