1995 BOURGEOIS GUITARS BROCHURE , pricelist, letters, card, etc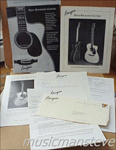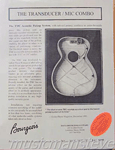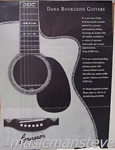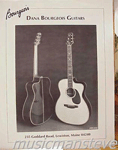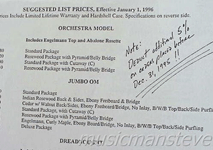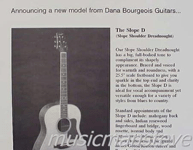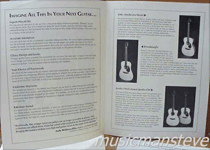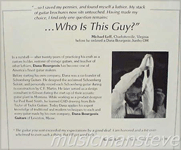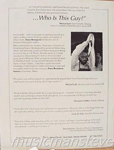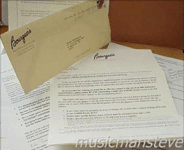 RARE original mid-1990s BOURGEOIS GUITARS BROCHURE is a single piece of good quality stock that is folded to produce four 8 ½" x 11" panels showing Dana's guitar offerings at the time. Front shows JOMC-DLX. Inner page shows OM, Dreadnought, Jumbo OM and Cutaway Jumbo OM. Back page has testimonials including the "Who Is This Guy?" shows Dana tap-testing a braced top. Separate sheet includes specifications and options as well as suggested retail prices for the upcoming year 1996. Another two page dealer letter announces the introduction of the 20th Anniversary Limited Edition. Still another promo shows and describes the newly introduced "Slope D". There is also a December 1995 letter to prospective dealers and a NAMM show promo with a photo of a cutaway Bourgeois guitar. This was mailed with a postmark that looks like 1989....it shows the address as Topsham, Maine. Last but not least there's a business card and an envelope that enclosed some of the literature mailings. ...

..Photos show paper brochure (SOLD).
PDF archived.


If you have any questions.......please e-mail Steve.



webuyguitars@cox.net


If you find this page helpful and would like to lend your support you can donate any amount you like. Thanks
---