original 1942 GEORGE BARNES GUITAR STYLES!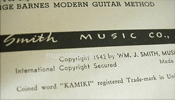 RARE original 1942 GEORGE BARNES GUITAR STYLES Song Folio with 39 numbered pages containing 12 guitar solos ....with piano accompaniment by the sensational guitar stylist..Contents: SHORTNIN' BREAD, A GOOD NIGHT FOR MURDER, KERRY DANCE, MELODY IN F, EVOLUTIVE ASCENSION FOR HOT ROCKS, ANITA'S DANCE, FAST AND FANCY, NONE OF BIZET'S BUSINESS, EASY TO MISS, LONDON BRIDGE WORK, DARK EYES & A HALF PINT OF OVERTURE .....in full musical notation. Very good COMPLETE condition. Normal signs of wear but completely legible..
Photos show paper folio (SOLD).


Clear complete PDF available


Home | Guitars | Guitar Parts & Accessories | Picks | Banjos, Mandolins, Ukes, etc. | Banjo Parts & Accessories | Primo Pots | Guitars Wanted | Contact | Guitar Tuner Reference | Magazine Backissues | books, catalogs, etc) | Vintage Paper (catalogs, folios,etc) | Photo Gallery | Vintage Print Ads | Vintage Gibson Sheet Music |
&copy 2022 Music Man. All Rights Reserved.