1952 Ivor Mariants' BOOK OF DAILY EXERCISES FOR GUITAR
Click on small photos to view large photo.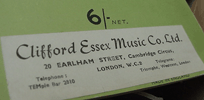 rare original 1952 Ivor Mariants' "BOOK OF DAILY EXERCISES FOR GUITAR". This folio has 40 numbered pages with exercises in musical notation. "The object of this book is to provide the plectrum guitarist with a set of progressive exercises which may be practised at any time and which will result in giving the player complete fingerboard knowledge and finger flexibility.."
Photos show paper folio (SOLD).
Clear complete PDF available



If you have any questions ...please e-mail









---
---
Home | Guitars | Guitar Parts & Accessories | Picks | Banjos, Mandolins, Ukes, etc. | Banjo Parts & Accessories | Primo Pots | Guitars Wanted | Contact | Guitar Tuner Reference | Magazine Backissues | books, catalogs, etc) | Vintage Paper (catalogs, folios,etc) | Photo Gallery | Vintage Print Ads | Vintage Gibson Sheet Music |
&copy 2022 Music Man. All Rights Reserved.