ABILENE HANG TAG & REGISTRATION
Click on small photos to view large photo.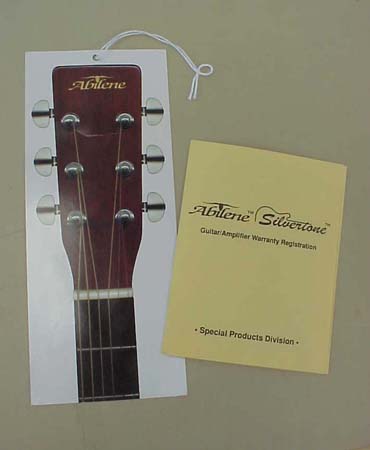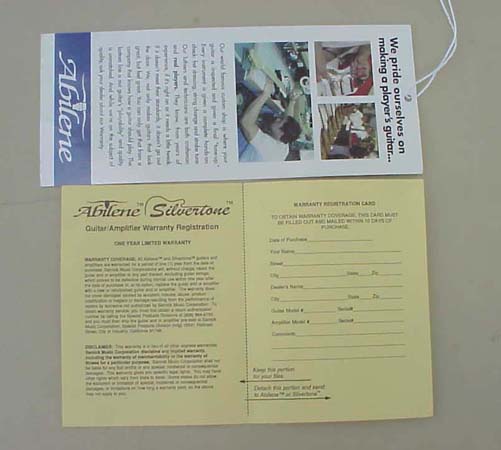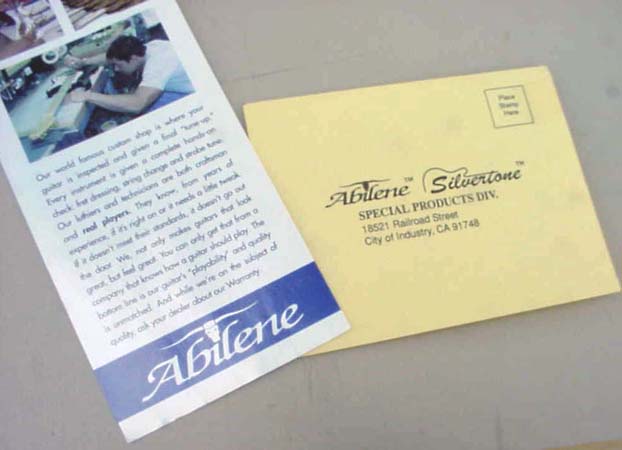 Offering for your consideration this original ABILENE HANG TAG & REGISTRATION shown. Not dated but likely early 2000s.... these didn't go out with the guitar when it was sold at the local monster mart...everybody deserves a 2nd chance..This is some fun "case candy"... you get both the hangtag and the warranty/registration card (not filled in)...both $12.50 (postpaid US
For Paypal purchase (US only) simply hit the "Buy Now" button below.
---
---
OVERSEAS please inquire..
If you have any questions ...please e-mail Steve


musicman5@cox.net









---
---
I usually respond to ALL e-mail inquiries. If you do not get a response it usually means I did not get the e-mail message...please try again



---
Home | Guitars | Guitar Parts & Accessories | Picks | Banjos, Mandolins, Ukes, etc. | Banjo Parts & Accessories | Primo Pots | Guitars Wanted | Contact | Guitar Tuner Reference | Magazine Backissues | Books | Vintage Paper | Photo Gallery | Vintage Print Ads |
&copy 2022 Music Man. All Rights Reserved.